Get ready to create the perfect baby room in The Sims 4 with our collection of 25+ super cute Sims 4 Nursery CC packs. From adorable toddler beds and cozy crib cushions to decorative cribs and baby mobiles, our nursery CC sets have everything you need to design a dreamy nursery for your little sim family.

Whether you prefer a traditional nursery with a touch of elegance like the Royal or Victoria sets, or a whimsical and magical space with the Fairy House or Evelina nursery, our selection has something for every style.
Download these CC packs and let your creativity soar as you decorate the nursery of your sims' dreams. Rest assured, these super cute CC sets will bring joy and comfort to your little ones as they rest and grow in style.
1.) Candy Covered by SIMcredible
Introducing the adorable and functional nursery set by SIMcredibledesigns.com! This sweet collection includes furniture like dressers, clothing vitrines, chairs, end tables, ceiling lamps, curtains, and clutters, along with a custom crib cover for the EA crib. Create the perfect baby room with this super cute mod that adds style and functionality to your sims' nurseries.
2.) Sims 4 Crib CC – Pink Baddie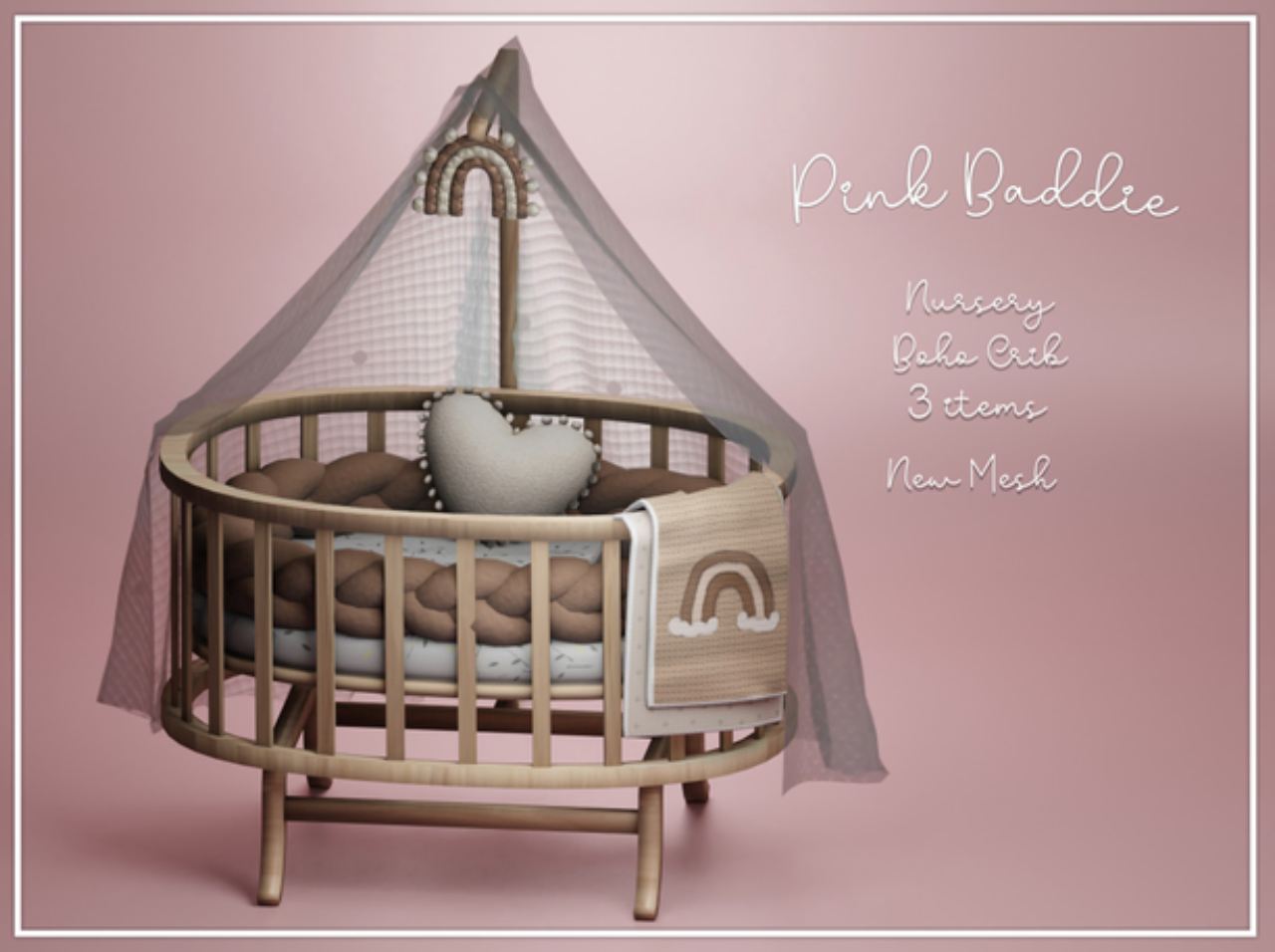 Introducing the charming Nursery Boho Crib by Pink Baddie! This stylish crib adds a touch of bohemian flair to your sim babies' nursery with its intricate details and cozy design. Please note that the mod is currently being updated to ensure compatibility with the latest Infant Expansion Pack for an even more immersive nursery experience.
3.) Stylish Wood Dreamy Nursery by SIXAM CC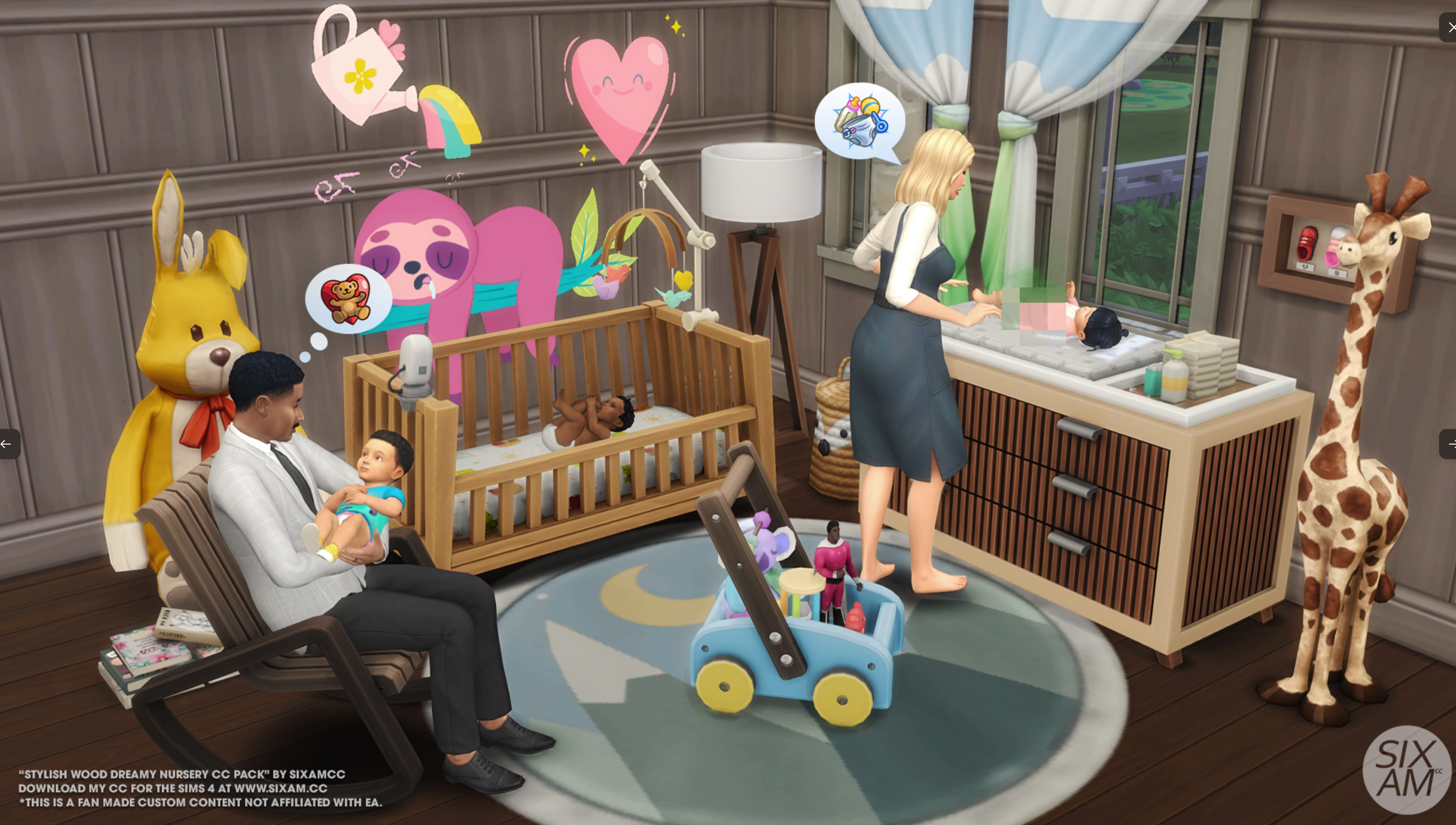 Introducing the exquisite Stylish Wood Dreamy Nursery, a cherished addition to my personal collection. This CC Pack features a range of wooden furniture pieces meticulously crafted to create a warm and inviting atmosphere for your Sim's precious little one. With a sturdy crib, modern bassinet, cozy rocking chair, spacious changing table, and storage-packed dresser, this set offers both functionality and style.
The design aesthetic is centered around simplicity, featuring clean lines and minimalist details that exude a timeless charm. The natural finish of the wooden furniture adds a touch of warmth and texture to the nursery, creating an inviting space for your Sim's bundle of joy.
To enhance the authenticity and practicality of the nursery, SIXAM included delightful clutter items inspired by suggestions from their patrons. From a kit of formulas with baby bottles to diaper boxes, a baby monitor, and a baby bottle warmer, these thoughtful additions add a touch of realism and convenience to your Sim's parenting experience.
4.) Spinning Joy Toys by SIMcredible!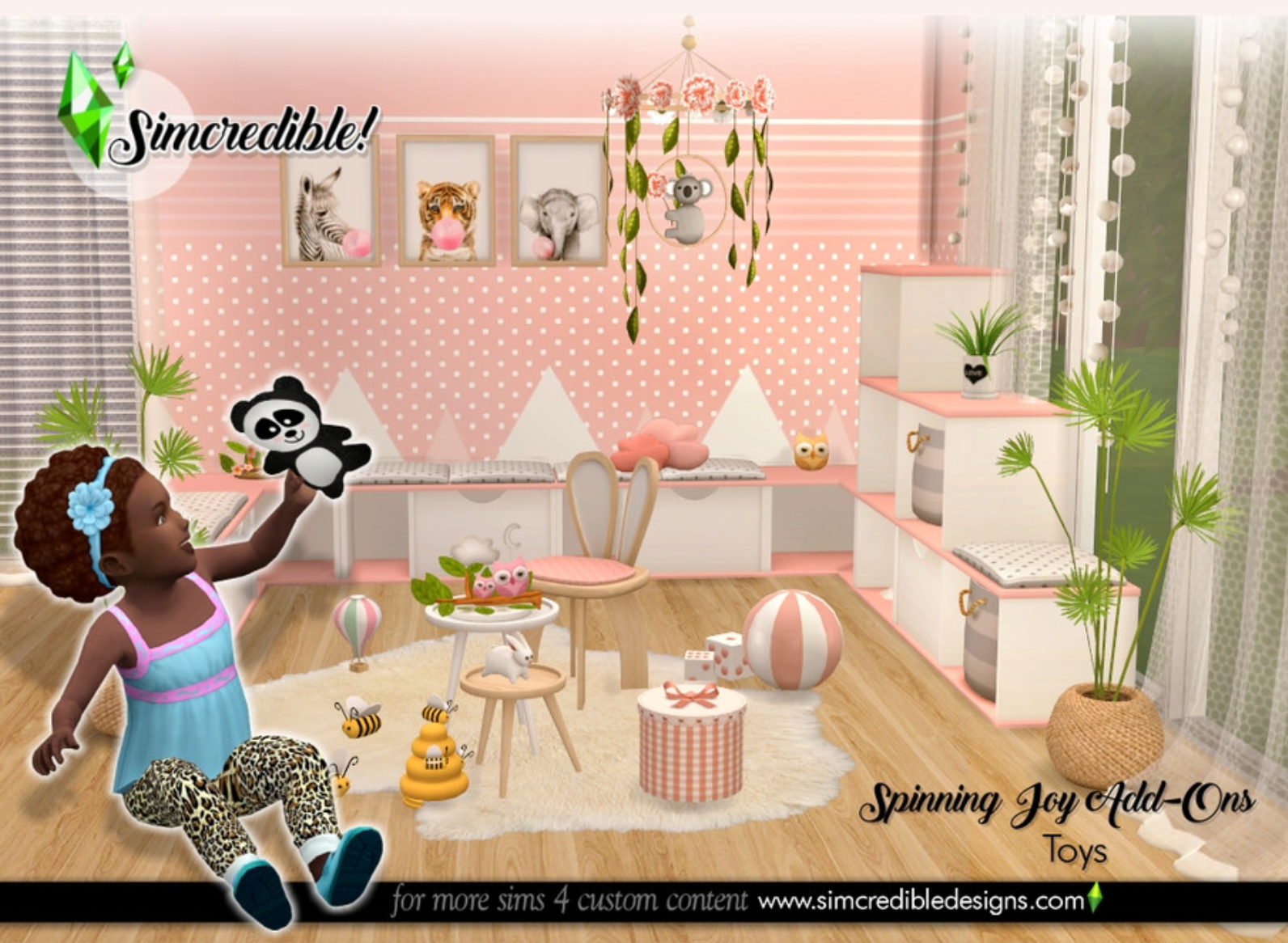 This set features a variety of new toy models for your little ones to enjoy, including adorable spinning joy mobiles. Mix and match these playful additions to create a whimsical and entertaining atmosphere in your sims' world.
5.) Lily Nursery Decor And Toys CC Pack by Severinka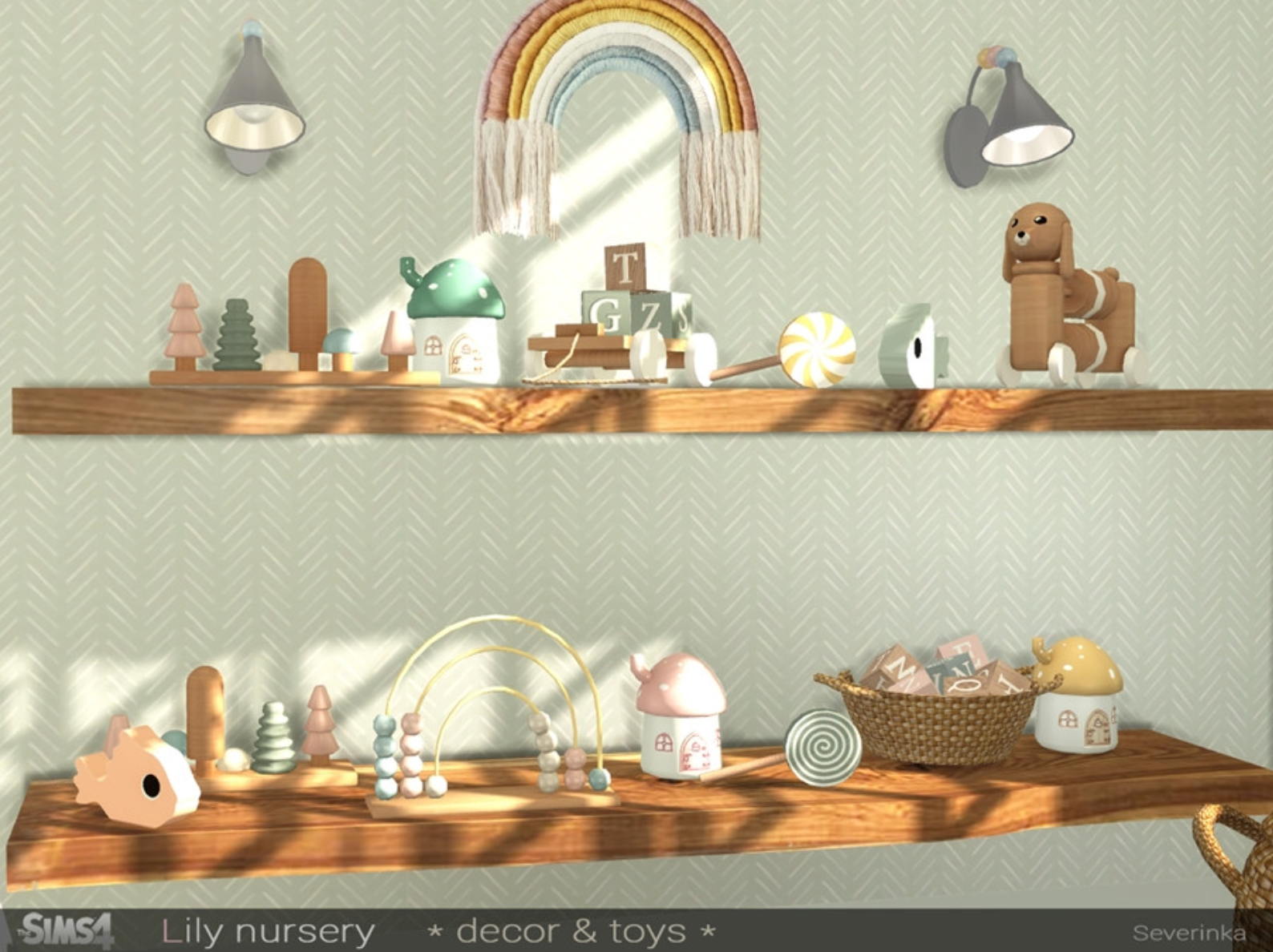 Introducing the charming Lily Nursery Decor And Toys CC Pack by Severinka! This delightful set offers a collection of 10 creations, including a variety of decor and toys to enhance the design of your kids' room or nursery. From an adorable abacus and playful dog abacus to a whimsical fairy house and functional fish toy, this pack provides a range of options to create a playful and enchanting space for your little ones. Let your imagination run wild with the vibrant and delightful objects in this set!
6.) Enorme Nursery Room – CC – Sedricia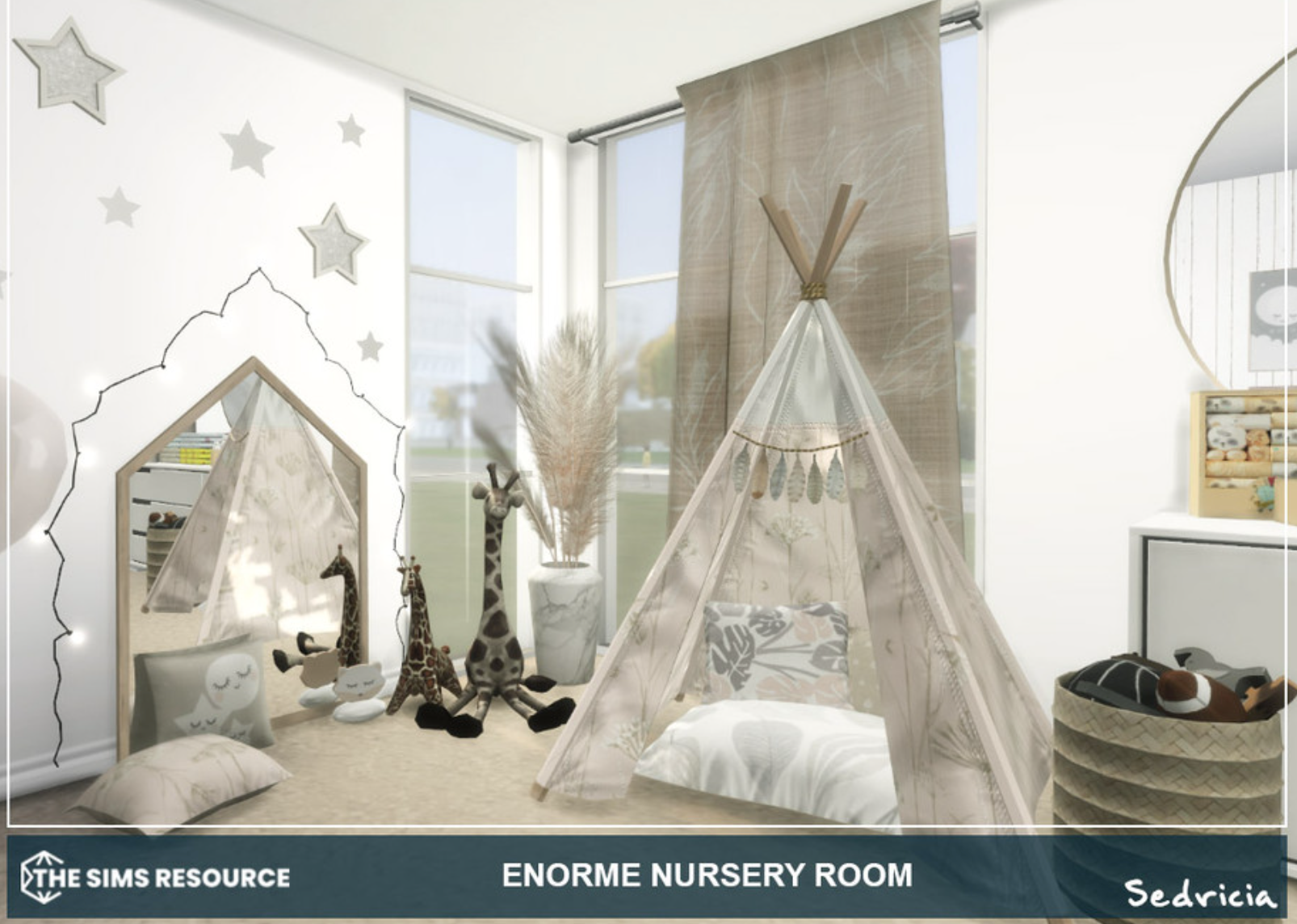 Introducing the captivating Enorme Nursery Room CC by Sedricia, a charming addition to your Sim's home. With its carefully curated selection of furniture and decor, this nursery brings alot of fun to your gameplay. To ensure seamless placement, remember to activate the "bb.moveobjects on" cheat before adding this room to your Sim's home.
7.) Jenny Sims 4 Nursery Furniture CC – Severinka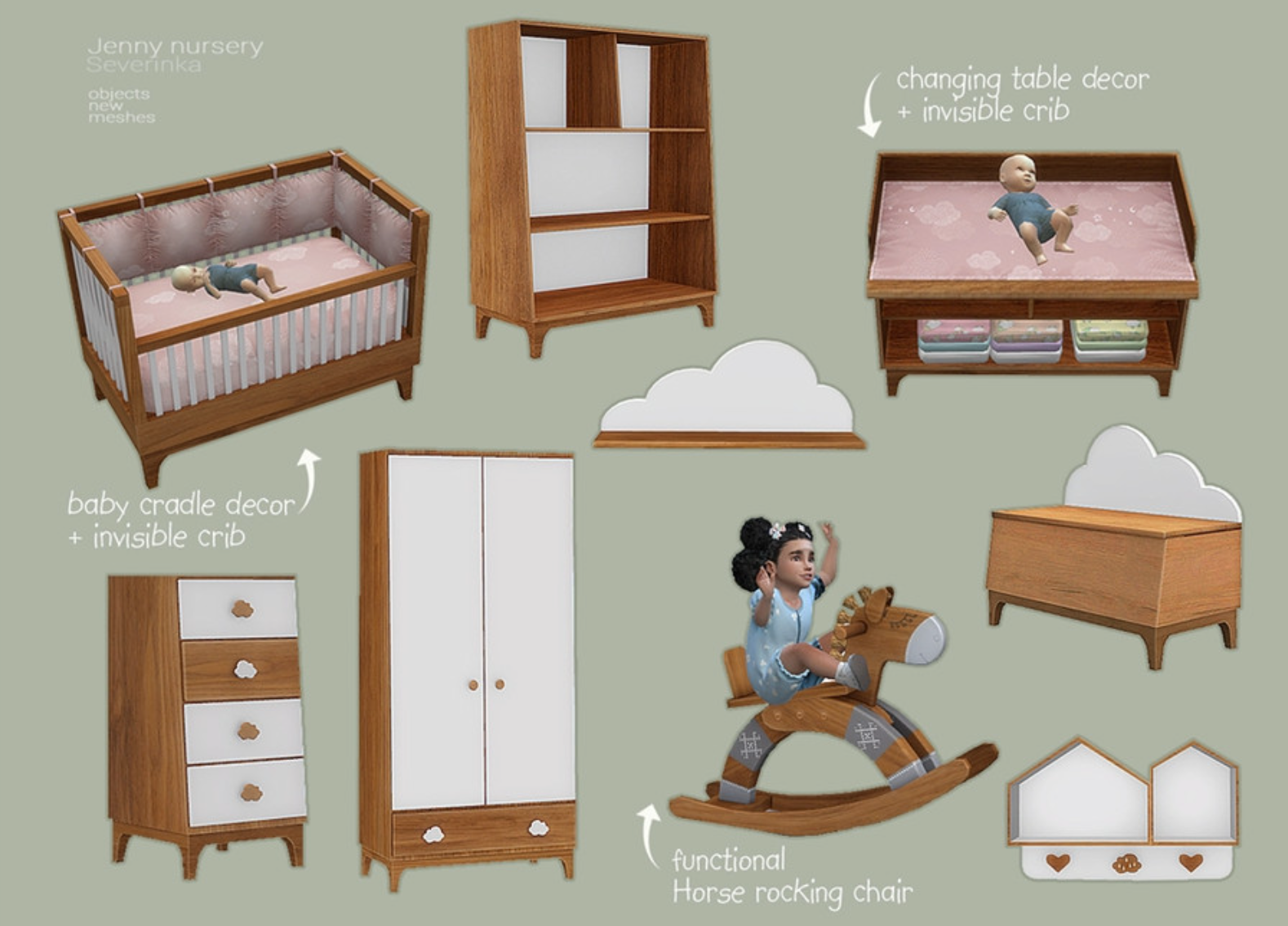 Introducing the charming Jenny Sims 4 Nursery Furniture CC by Severinka, a delightful assortment of furniture and decor designed to adorn your nursery room in the Scandi style. This set includes nine adorable objects that add a touch of sweetness and functionality to your Sims' nursery.
Immerse yourself in the enchanting world of nursery decor with items such as a wardrobe, dresser, cabinet, bench, deco cradle (compatible with the 'Invisible crib mod'), deco changing table (also compatible with the 'Invisible crib mod'), display Cloud, display Houses, and the delightful Horse rocking chair (requires the 'Nifty Knitting' add-on).
Embrace the joy of creating a beautiful and cozy nursery for your little ones in The Sims 4. With this CC set, you can bring a touch of Scandi heritage to your nursery, creating an adorable and functional space for your Sims' precious babies.
Don't miss out on the opportunity to download the Jenny Sims 4 Nursery Furniture CC by Severinka and let your creative instincts soar as you design the nursery of your dreams. Happy decorating and may your Sims' nurseries be filled with love, joy, and sweet memories!
8.) Nana Nursery by Severinka_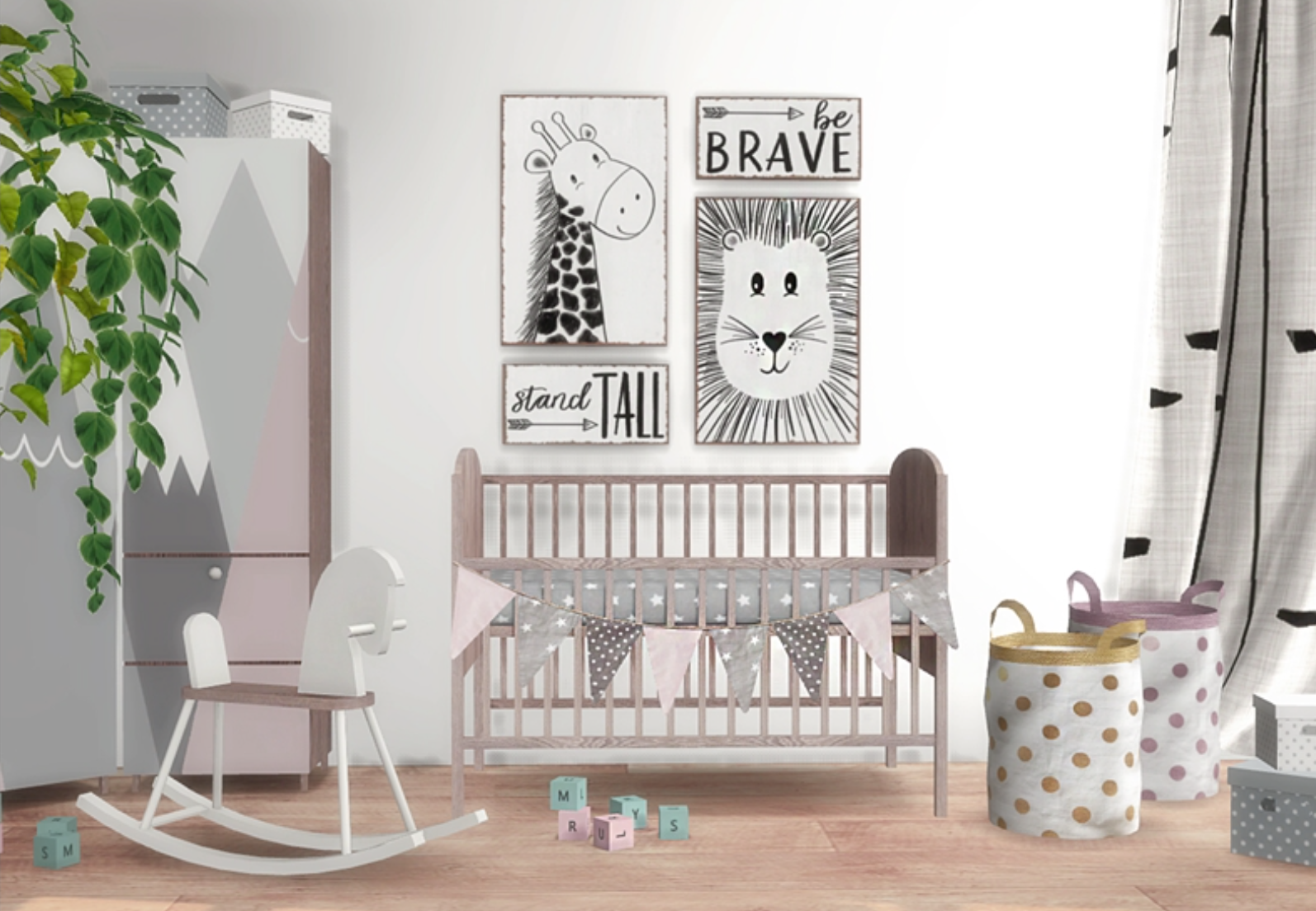 Check out the Nana Nursery by Severinka! Step into the world of Scandinavian design as you immerse yourself in this delightful set of furniture, perfect for creating your sim's baby room. With delicate pink-gray colors, this set captures the essence of sims 4 nursery sweetness.
In Nana's Nursery, you can decorate with 10 objects, including a decorative crib, crin pennants, dresser in three delightful variants, a toy horse, captivating posters, toy baskets in two charming styles, and a delightful paper box.
Enjoy the decorating and may your nursery be filled with love, joy, and sweet dreams!
9.) Evelina nursery decor by Severinka_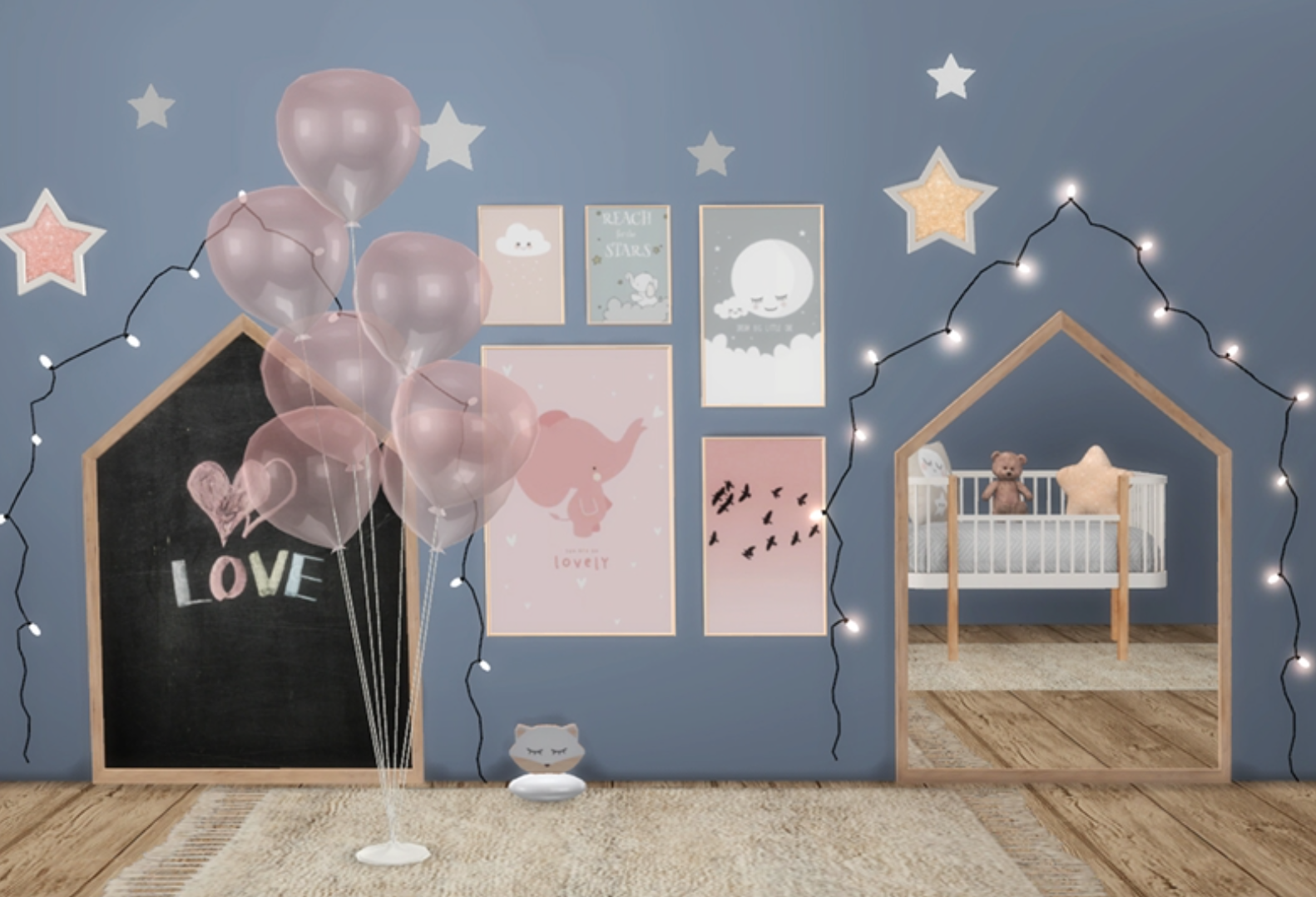 Create the dreamy Evelina nursery of your sims' desires with another Scandinavian-inspired decor set. With a delightful palette of delicate pink-gray and yellow-gray colors, this set includes 9 enchanting objects, such as garland wall lamps, a charming chalk desk, a whimsical fox toy, and elegant star wall sculptures.
Let your creativity shine as you design the perfect nursery for your little ones. Get ready to bring comfort, style, and a touch of magic to your sims' lives with this super cute CC pack.
10.) Old Age Nursery – infant crib by Severinka_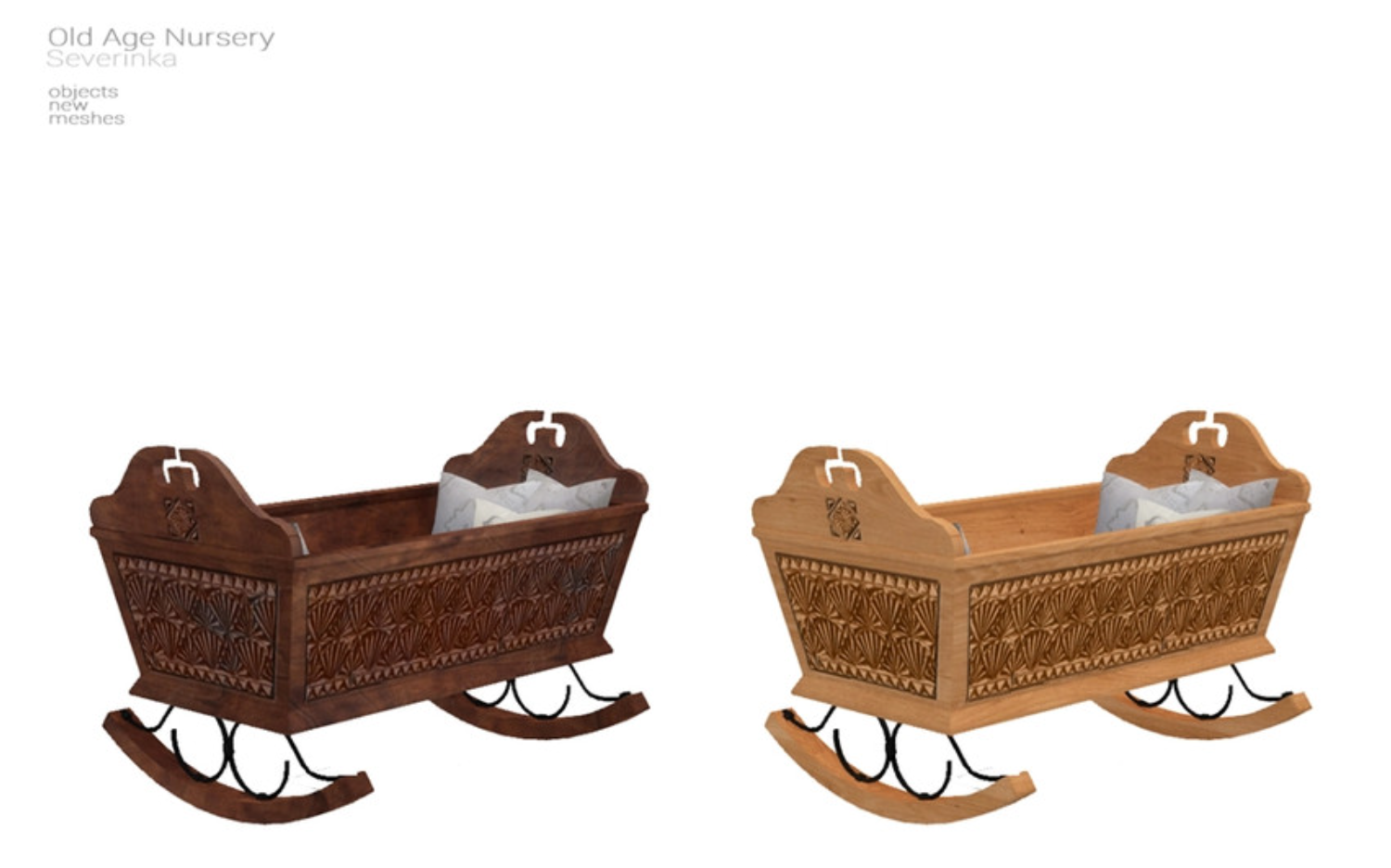 Give your sims 4 babies the perfect sleeping sanctuary with this beautiful age old classic.
This intricately designed crib that I just LOVE adds a touch of vintage elegance to your nursery, crafted with love and care. Try it out and let me know what you think!
11.) Infants first Nursery by Flubs79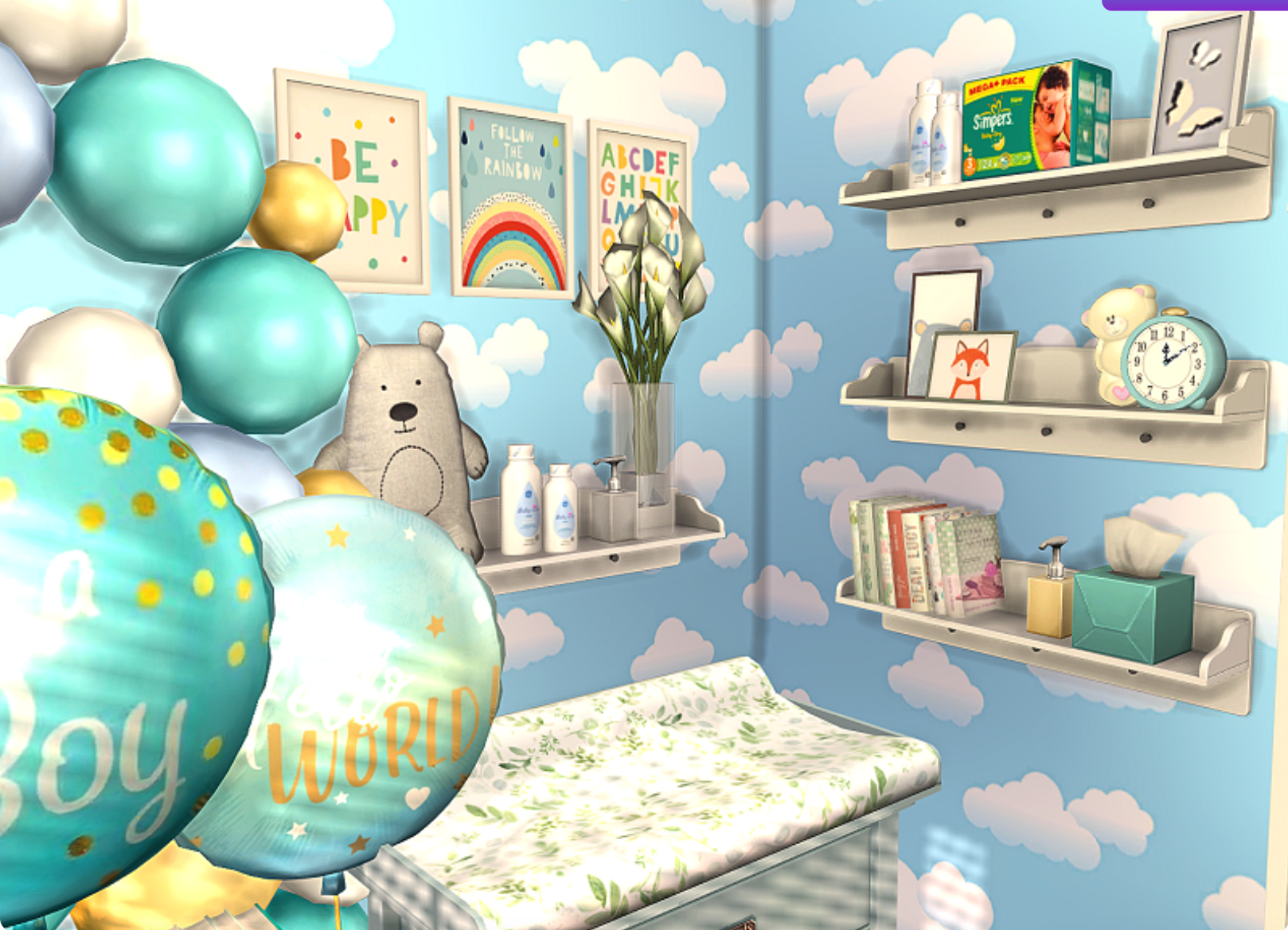 This sims 4 baby blue nursery room by Flubs79 is also a great find. Check out the clouds on the walls, the realistic book shelves, and other objects that will make your sim baby feel like they are part of a royal nursery. The baby mobile of above the little baby bed is also pretty decor in my opinion. I do also like the flowers over the changing pad to add some awesome sims flare to the Infant first cc pack.
12.) Laurel Infant Bedroom by Moniamay72
This Sims 4 cc set is another nursery cc pack that I really love. Your sims will really love taking care of their baby sims in this nursery with the hanging swing where mama can sit and nurse, or read some books to their brand new newborn.
Imagine the sweet dreams your baby sims will have in that rocking chair-like wall swing.
13.) Grandma's Sims 4 Nursery CC by Awingedllama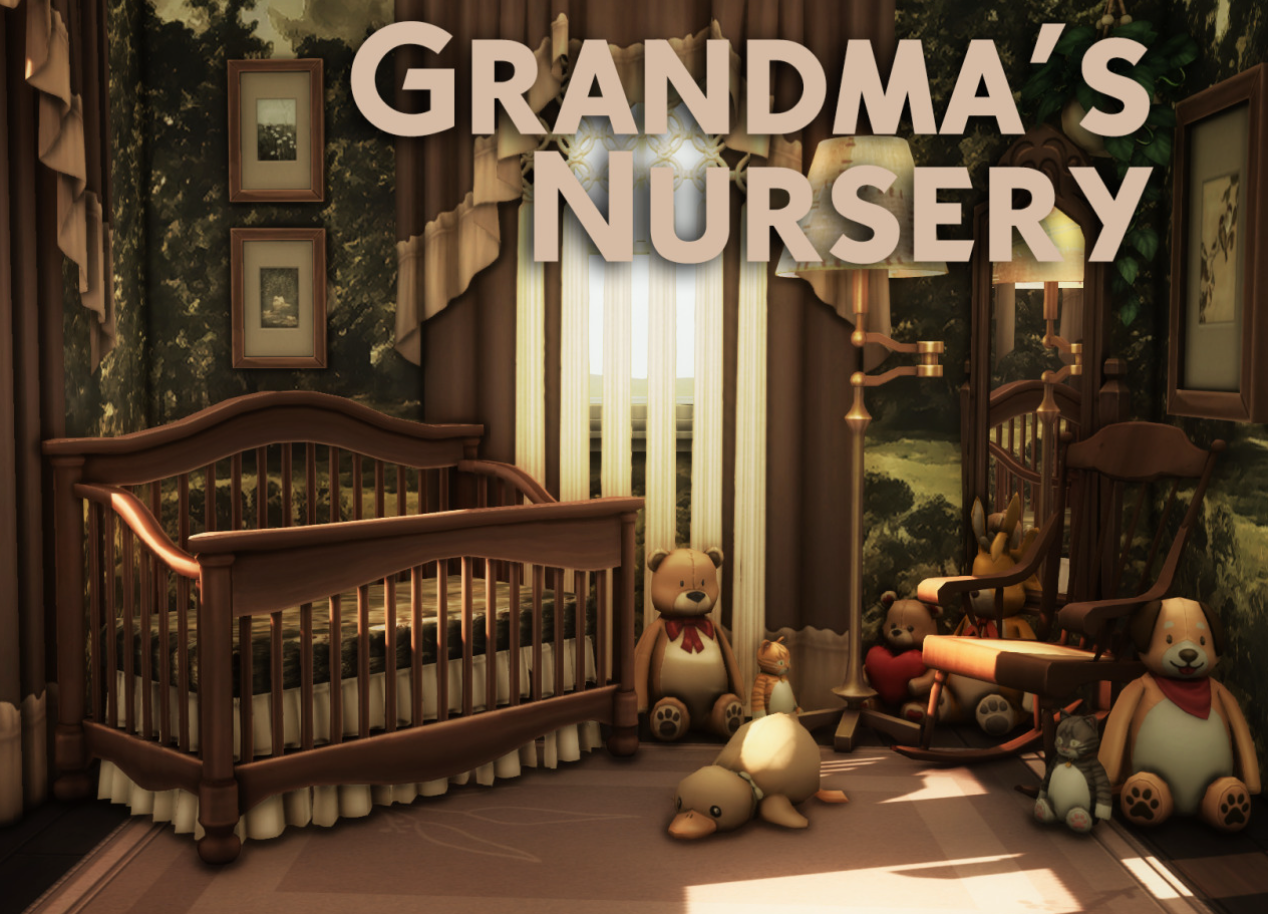 If you are into Grandma's house, you will love this old school wooden oaky feel if you like a nursery traditional house vibe. Also I would consider this a Sims 4 throwback to the Nursery room we all remember having fun in as kids. The toddler bed mattress even looks like it has Grandma's special twist, with a floral pattern that only Grandma would approve of.
Another one to try out if you are bored and looking to spice up your game with some fun ideas.
14.) Stockton Kids Tent by ArtVitalex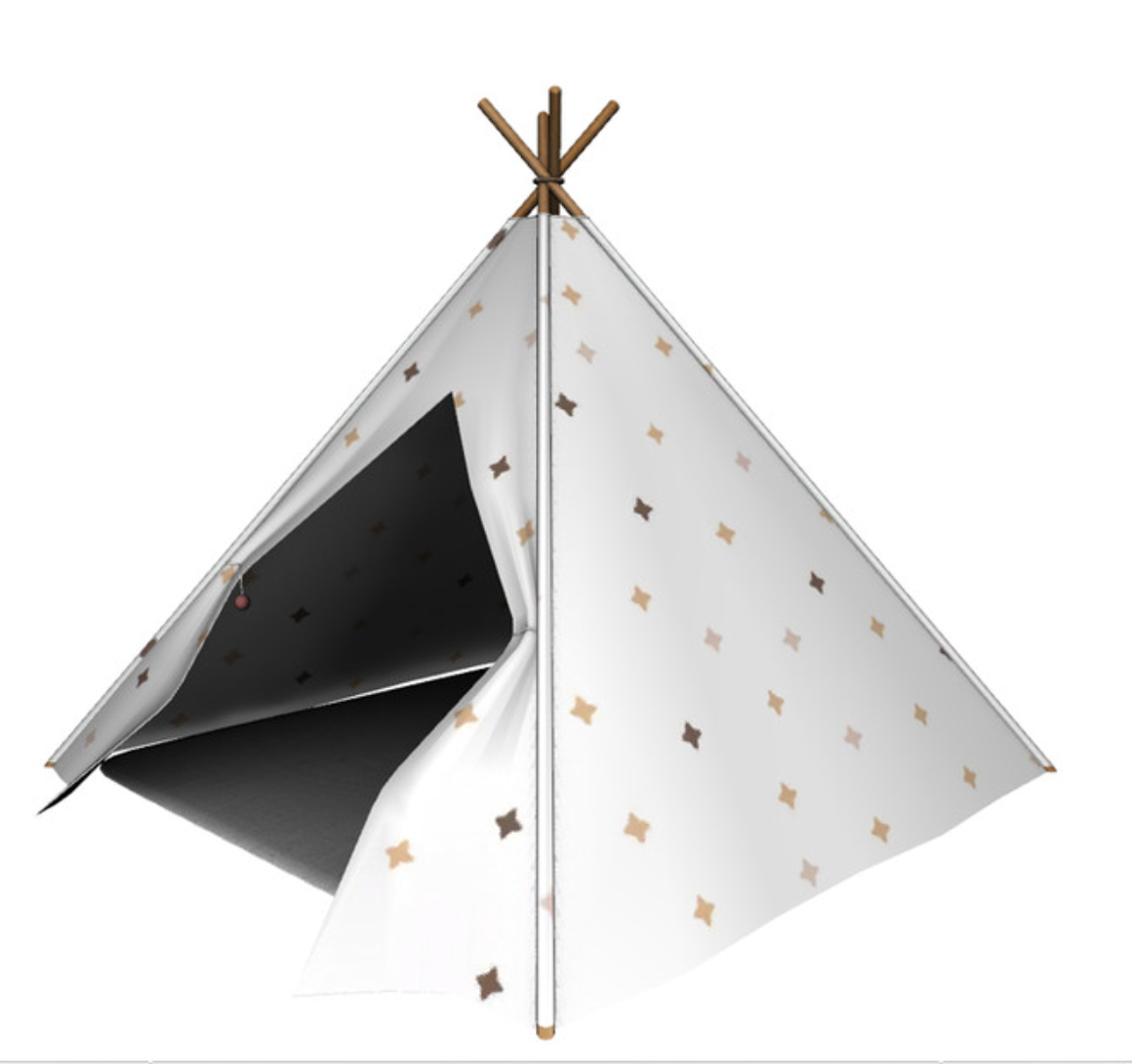 This is one for the sim toddlers, and especially the toddler princess that likes to play in a tent. The patterns on the tent are changeable to reflect your Sims 4 nursery cc preferences. I really hope you enjoy this one as much as I do.
15.) Stockton Teddy Bear by ArtVitalex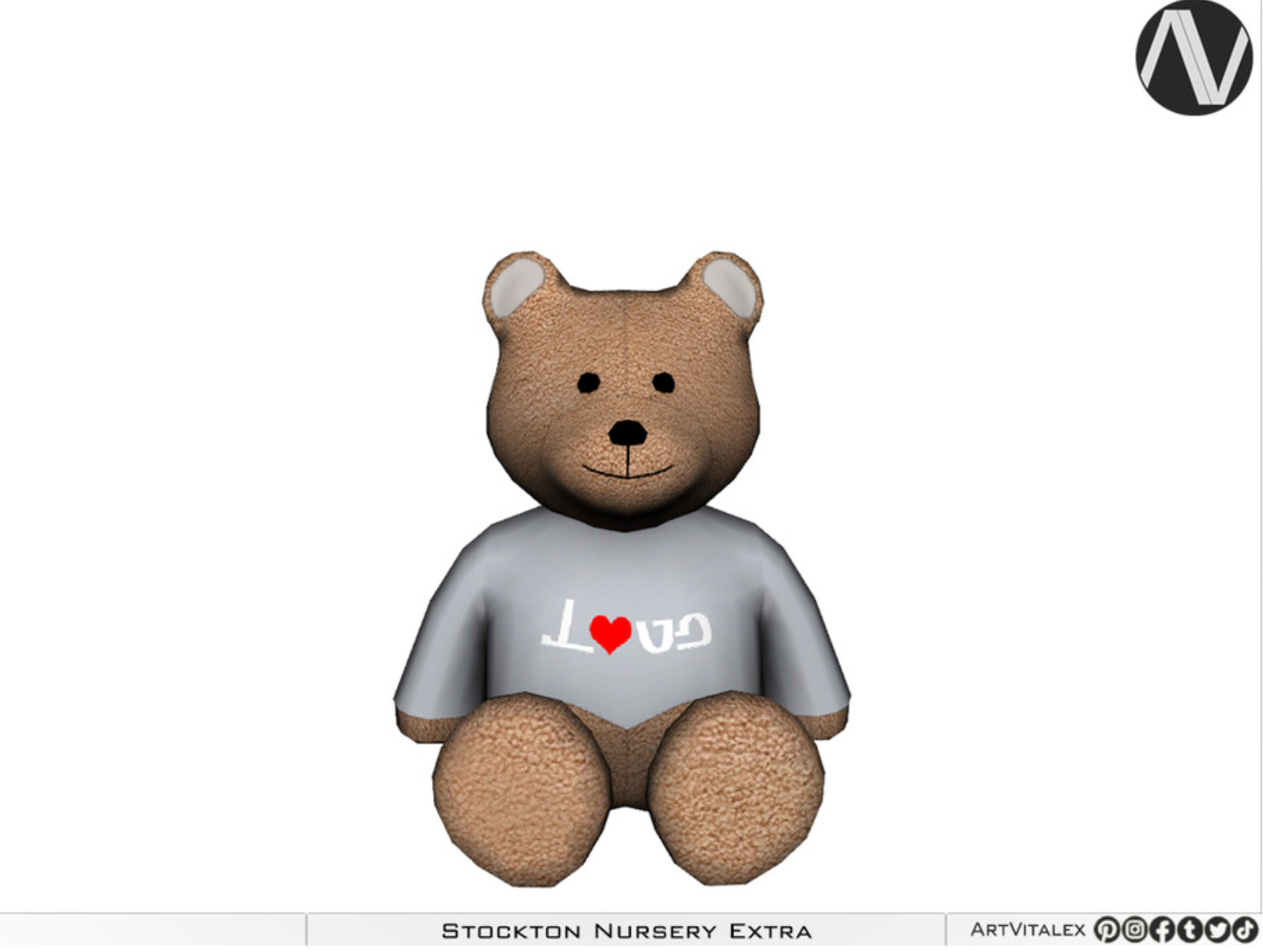 A cute little teddy bear with changeable patterns that your sims 4 toddler is sure to love. Add the bear to a bookshelf, or to a sleepi nursery, or an aura nursery, or even an awesims broyhill nursery. I just love these nursery objects that really fit in any nursery space or toddler bed.
16.) Dreamy Corner by Nessca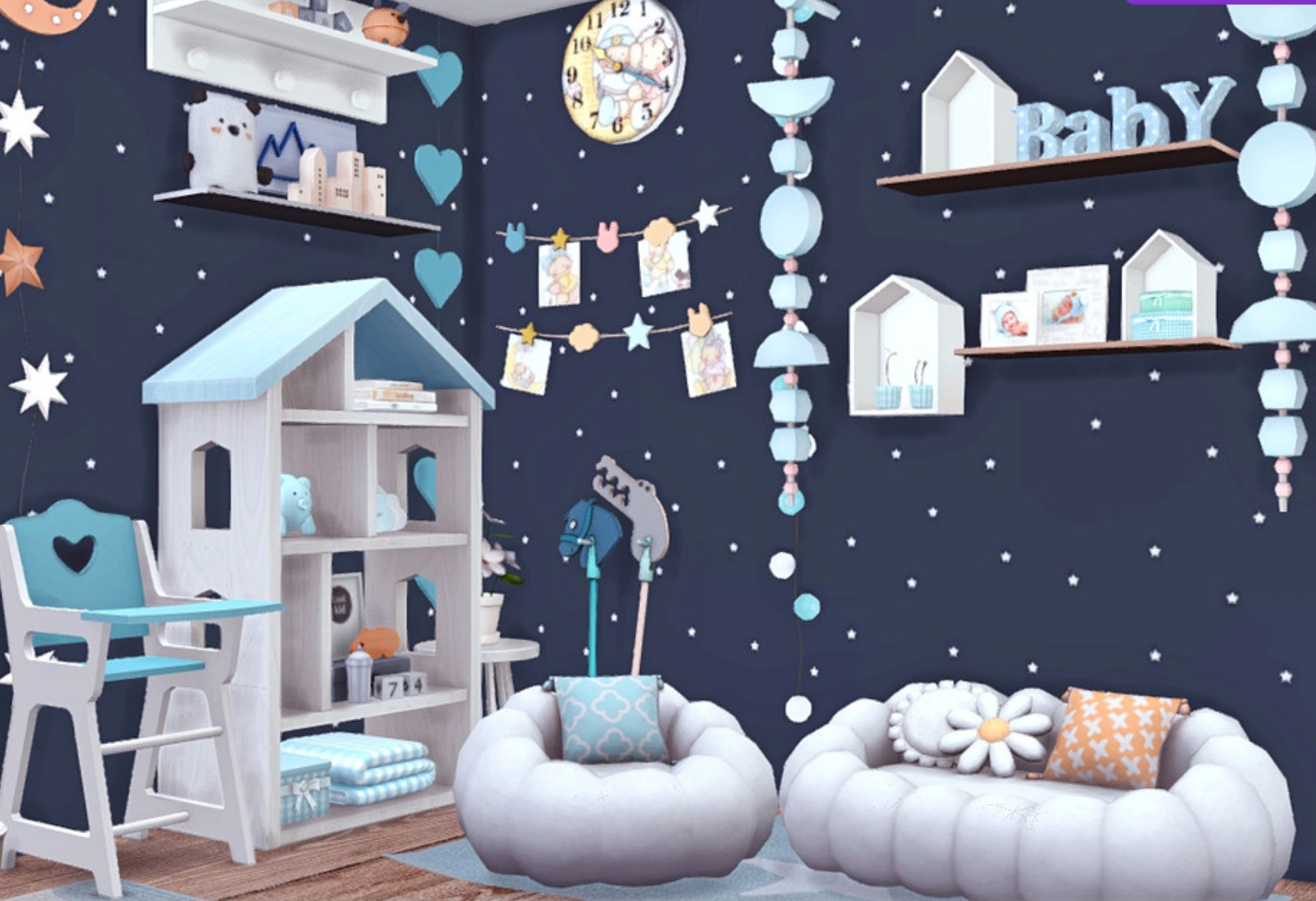 I also love the enchanting Sims 4 Dreamy Corner nursery, a stunning nursery set designed for the youngest Sims. The interior features a delightful combination of white, navy blue, creating a serene and stylish atmosphere. The wall covering resembles a starry night, adding a touch of magic to the space. Let your sims drift off to dreamland in this captivating and cozy bedroom.
This post was all about The Sims 4 Nursery CC
For more of the best sims 4 mods, sims 4 cc, and gameplay ideas click HERE to see my latest posts.
And don't forget to follow me on Tumblr & Pinterest to be updated when I post new content.